Smith announced the 20th Anniversary of Vulgarthon event on Twitter. With only 337 tickets available, the August 2nd event being held at Red Bank, New Jersey's Bow Tie Cinema sold out quickly. Vulgarthon will feature five films, each followed by a live podcast with special guests – not unlike the original Vulgarthon '98 which featured five films followed by Q&As with special guests.
Wanting to keep the Vulgarthon film selection a surprise for attendees, Smith has yet to announce what will be shown. The Vulgarthon '98 selection was made up of three of Smith's films (Clerks, Mallrats, Chasing Amy) and two films that he and Scott Mosier worked on as executive producers (A Better Place, Drawing Flies). If the original event is a model for what could be screened, Smith's laundry list of projects from the past 20 years make it difficult to speculate what will be shown.
The following night, August 3rd, Kevin Smith and Ralph Garman will be hosting a special birthday edition of Hollywood Babble-On at the Improv comedy club in Irvine, California. Tickets are still available but are moving quickly.
Rounding out his birthday weekend, on August 5th, Smith joins Andy McElfresh for a live taping of the Edumacation Pub Quiz at the Scum & Villainy Cantina in Los Angeles, California. This is a non-ticketed event, and payment is only needed to play the quiz.
Celebrating birthdays with audiences in Red Bank, New Jersey is a bit of a tradition for Kevin Smith.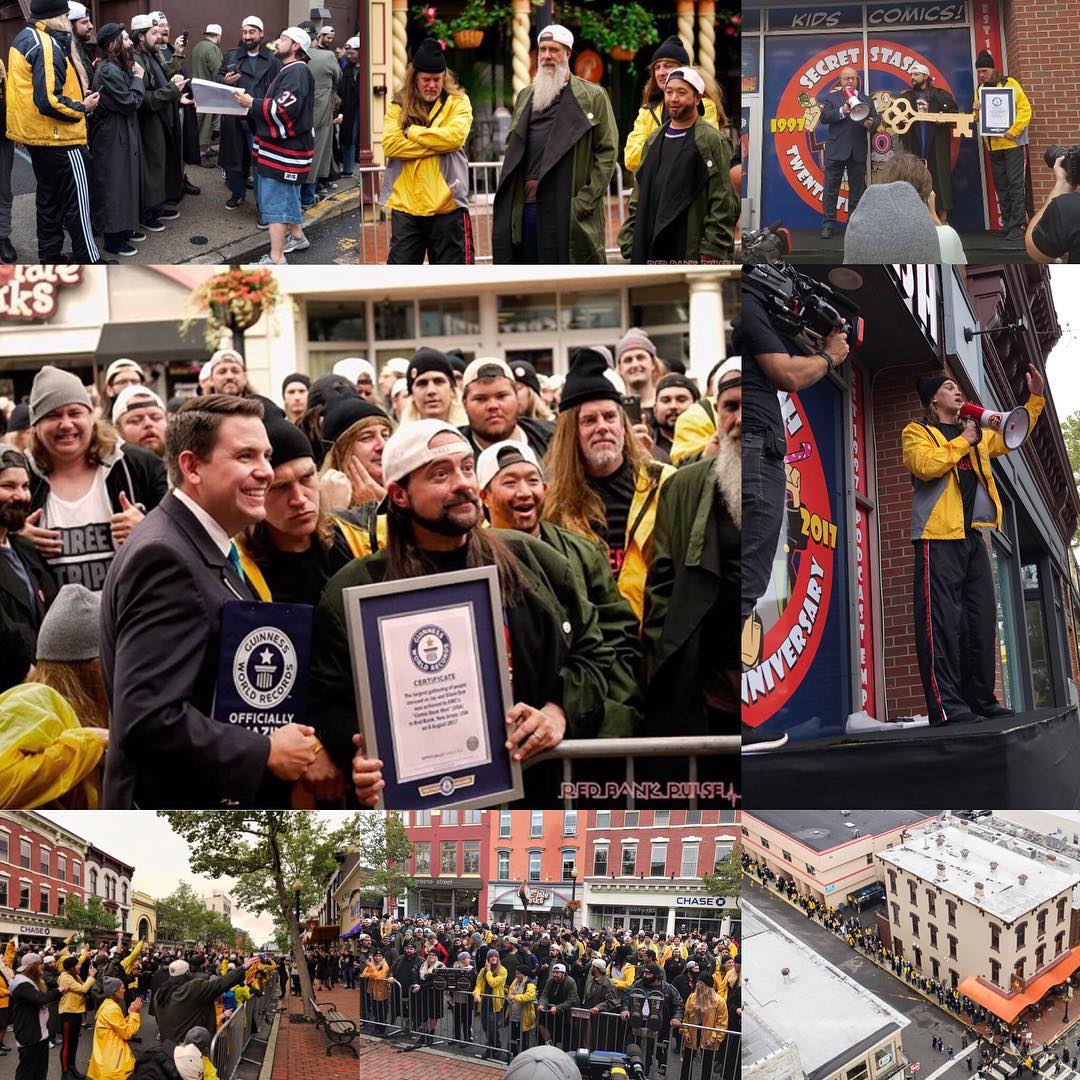 Makin' Records in Red Bank!
The largest gathering of Jay and Silent Bob cosplayers ever assembled, setting a Guinness World Record.
In 2017, Smith celebrated his birthday along with the 20th anniversary of Jay and Silent Bob's Secret Stash. Part of the celebrations involved the setting of a Guinness World Record for cosplayers dressed as Jay and Silent Bob in one place. Red Bank's mayor even declared the day "Kevin Smith Day," honoring the birthday boy with the key to the city.
In the past, Red Bank's Count Basie Theater has been ground zero for many of Smith's birthday events. In 2016, it was where he held a birthday pre-release screening of Yoga Hosers. Prior to that, it was where he filmed the live Q&A performances for Too Fat for 40 (2010) and Sold Out: A Threevening with Kevin Smith (2007).
Perhaps Smith's affinity for spending his birthday with fans has to do with a birthday he spent in a theater back in 1991:
So on Friday, August 2, 1991—the evening of my twenty-first birthday—Vincent and I closed up Quick Stop, took the Garden State Parkway North to the New Jersey Turnpike North, got off a the Holland Tunnel exit, went up to Houston and hung a right, and parked the car. One Kevin Smith Stepped out of the vehicle and headed into the Angelika Film Center, but two hours later, a very different Kevin Smith would emerge…
Richard Linklater's Slacker was the movie that would change my life … That night, Richard Linklater and his film not only captured my imagination, they kick-started my ambition …
By the time we hit the turnpike tollbooth on the Jersey side of the Holland Tunnel, I finally said it aloud. "I want to be a filmmaker."
-Tough Sh*t: Life Advice from a Fat, Lazy Slob Who Did Good
Smith's career has broadened since that fateful birthday, 27 years ago. Recently, he has taken on more work directing television, like episodes of The Flash, Supergirl andThe Goldbergs. And just as he took an unconventional route to starting his career with Clerks, he is taking an atypical route with his passion project Hollyweed.
In Kevin Smith's own words:
Nearly three years ago, my friends and I made a pilot for a show called Hollyweed. It wasn't at all groundbreaking but it was fun to make: essentially, it was CLERKS in a weed store … The future was looking bright for Hollyweed - until we ran into a slight speed bump: no network wanted the show. And so like many pilots before it, Hollyweed didn't become a series - it became a digital file that sat on my laptop, where I'd watch it from time to time as a reminder of what might've been, daydreaming of trying again one day. Then I nearly dropped dead of a heart attack and decided one day is today!
Having already shot the pilot, Smith is hoping to continue with Hollyweed by partnering with Rivit TV and by putting its fate into the hands of fans.
"This platform allows our industry's top creators like Kevin Smith to focus on passion projects that resonate with their fans without worrying about a committee of executives or advertisers," Marcus Wiley, chief content officer at Rivit TV told Variety. "Our goal is to directly connect creators with their fans, liberate the creative process and invite the audience to greenlight shows from their favorite storytellers."
Pilots on Rivit TV are free to view. Once a pilot launches on the platform, it then has 45 days to have the season green light by viewers who select one of five price-per-episode options they'd be willing to pay for the rest of the season. Season patrons will not be charged until the show reaches its funding goal within the 45 days, or when the cost per episode reaches its lowest price: $1.99.
Hollyweed's 45 days on Rivit TV started on July 11th.
After a screening of the pilot episode at San Diego Comic Con, Smith told the audience, "My birthday's coming up, August 2nd. If you're like, 'What do I get the guy?' – buy some episodes of Hollyweed."